Chevrolet Corvette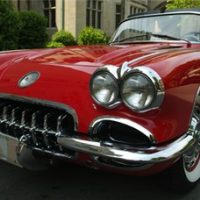 The unofficial flagship of the division entered production in 1953. It was originally a concept car. Soap Box Derby empresario Myron Clark supposedly came up with the name. He may have borrowed it from the small, sleek, World War II-era warships.
The Corvette concept car appeared in 1951. When GIs were in Europe, many acquired a taste for Alfa Romeos, Jaguars, and other small, nimble European sports cars. Corvettes were basically designed to be American copies of these automobiles. The concept car was so well-received at its New York City debut that production began just six months later. Atlantic City's Kerbeck Corvette museum has one of these early Corvettes on display.
Many people consider modern Corvettes to be among the best sports cars that Detroit has ever produced. But to many others, the early generation Corvettes hold that distinction.
Corvette C1 (1953-1962)
GM only manufactured 300 Corvettes the first year. Since it was a concept car, there were no proven assembly line techniques. Most of the car was hand built, so each one is unique. That uneven quality helped slow sales. GM produced ten times as many Corvettes in 1954, yet about a third of them remained unsold at year's end.
A 1954 Popular Mechanics survey may shed more light on the sluggish sales. Although roughly half of Corvette owners said the vehicle was better than their foreign sports cars, many did not consider it to be in the same genre. The fiberglass body tended to leak water during even moderate rainstorms. Furthermore, the V6 and Powerglide transmissions left many sports car enthusiasts wanting more.
In 1955, GM upsized the engine to a V8 and added an optional manual transmission. These innovations, along with a range of new exterior and interior color options, won over may skeptical consumers. This was also the first year that Belgian designer Zora Arkus-Duntov worked on the Corvette. His design and development contributions made him the "father of the Corvette" according to many. That moniker may technically belong to earlier designers. However, Arkus-Duntov did take the Corvette from second-rate sportscar to the flagship that it became in later years.
Beginning in 1956, the Powerglide automatic transmission was optional and the three-speed manual was standard. The Corvette sports car had arrived.
Corvette C2s (1963-67)
The Corvette Stingray is actually a cross between a Q-Corvette and a racing Stingray. These cars had independent suspension and four-wheel brakes to improve handling. Other innovations included a redesigned chassis and a removable hardtop. There was more passenger and cargo room as well. The Stingray was a mostly fiberglass car, but it also had twice as much steel as the C1.
Stingrays also had the first hidden headlights since the 1942 DeSoto, and that look would remain a Corvette trademark for years to come. 1963 was also the first year of the distinctive twin-cowl top. Later models in this series had larger engines, making them true muscle cars. Other upgrades included transistorized ignition, stronger suspension, and better brakes.
As of the 2018 model year, the Corvette is on its seventh generation. It has also won numerous awards. Automobile Magazine put the Stingray Corvette atop its "100 Coolest Cars" list, and edmunds.com named the Stingray as the 17th best car ever produced.